We're always looking for something that will help us go faster and win more races. But we know there is no "miracle" part or tool that will do the trick alone. The whole package has to work together to draw out every ounce of performance from your racing machine. You've no doubt heard the name Larry Jones and if you haven't, let me introduce him to you. He's the guy that invented the Super True Tire Machine that revolutionized the karting industry.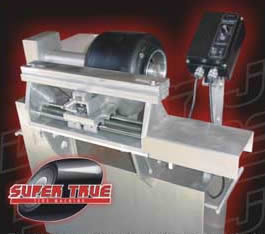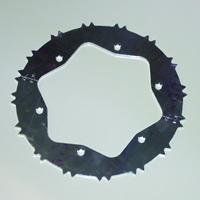 If you're running "cut tires" then chances are they were cut on a Larry Jones Motorsports product. Larry doesn't sit still very long between new gadgets and he's constantly working on something new to improve a racer's performance. Larry sat down with a chunk of 7075 aircraft quality T6 aluminum and whittled out a masterpiece. Skip Tooth Gears. Sure, the skip tooth gear concept is not totally new, but this design rocks. It's a bit thinner than standard gears and designed in a way to make it considerably lighter.
Engine builders hate extra weight when they are building an engine because the excess rotating weight dampers an engine's performance. It stands to reason that any unnecessarily heavy rotating mass within the drive train impedes performance. But the Skip Tooth Gear is machined to be light and with every other pair of teeth removed the skipped tooth design further reduces friction against the chain. Remember, too, that the gear is thinner than most other gears on the market and that further reduces friction against the chain.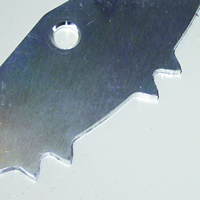 Although Oval Kart Magazine has not completed extensive research on the new Larry Jones gears but we have used them and found that they do increase RPMs by about 150 RPMs over standard gears and were forced to drop in gear size one tooth to bring the engine back into it's power band. We were pleased with the product. Well machined, well designed, and in a machined aluminum finish make them an asset to your gear arsenal and a pearl in your toolbox. Try some for yourself and contact Larry Jones Motorsports for more information through their website.